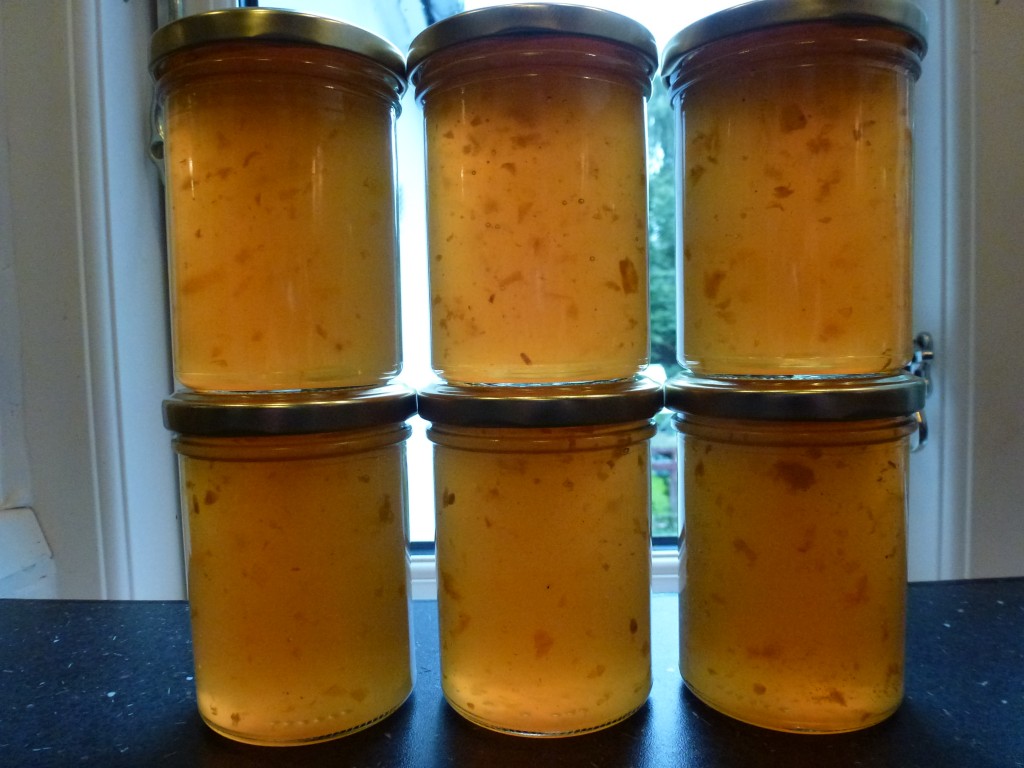 Ingredients:
1 – 1½ kg æbler, like cooking apples
Water
7 små stænger kanel eller tilsvarende stykker af en større
1½ toptsk hele nelliker
750 – 1000 gr sukker
fresh chili to taste
Gul Melatin
Sodium benzoate
How to:
Wash the apples and cut them into chunks – I think it's easiest to cut them into slices – and possibly. halving them by.
Pour water until you can see the water down into the pan between apples – it must not cover (see image). You can easily use less water – add your self how much flavor is in apples.
Apples are cooked in water with cloves and cinnamon until they are well tender – almost cooked to mush.
Mass drip off in a juice bag least a few hours – preferably overnight.
Scald the jars and rinse them possibly. i Atamonvand.
Finthak chilien.
The juice is measured and add to the pan. The goal you need to find uf of how much Melatin to be in. Bring the juice to a boil and then add the yellow Melatin as directed on package.
Add sugar and chilli and allow the gel to the boil for one minute. You can first try to use a smaller portion of sugar, taste and quick add more if you like. There is a big difference between acid unit in apples and thus how much sugar there seems appropriate – and not all forest ranks their jelly just cute.
Take it off the heat and add Atamon as directed on the bottle.
Pour the jelly in jars and let it cool before you close them.
Note:
If you are using immature apples or cooking apples, can possibly Melatien. omitted. Du skal så bruge ikke for store glas og lade dem stå til geléen er stivnet helt. Måske har du selv en gammel æblegelé opskrift som du blot skal tilsætte krydderierne. Chili can of course add the boiling apples and strained out if you'd rather have a clearer jelly – but I like the so pieces floating around in the finished product. It may sound like much cinnamon and cloves, it provides a strong and close spicy flavor: I think it works well with chili – use less if you like.