Egentlig blot en mere eller mindre stærk variation over en almindellig citronmarmelade. I think it lends itself very well to chillies which already has fruit notes and is in my opinion great for particular. many Habaneroer and the yellow Aji'er.
Can also laves as bitter lemon marmalade – se nederst.
Portionen her giver ca 3 liter.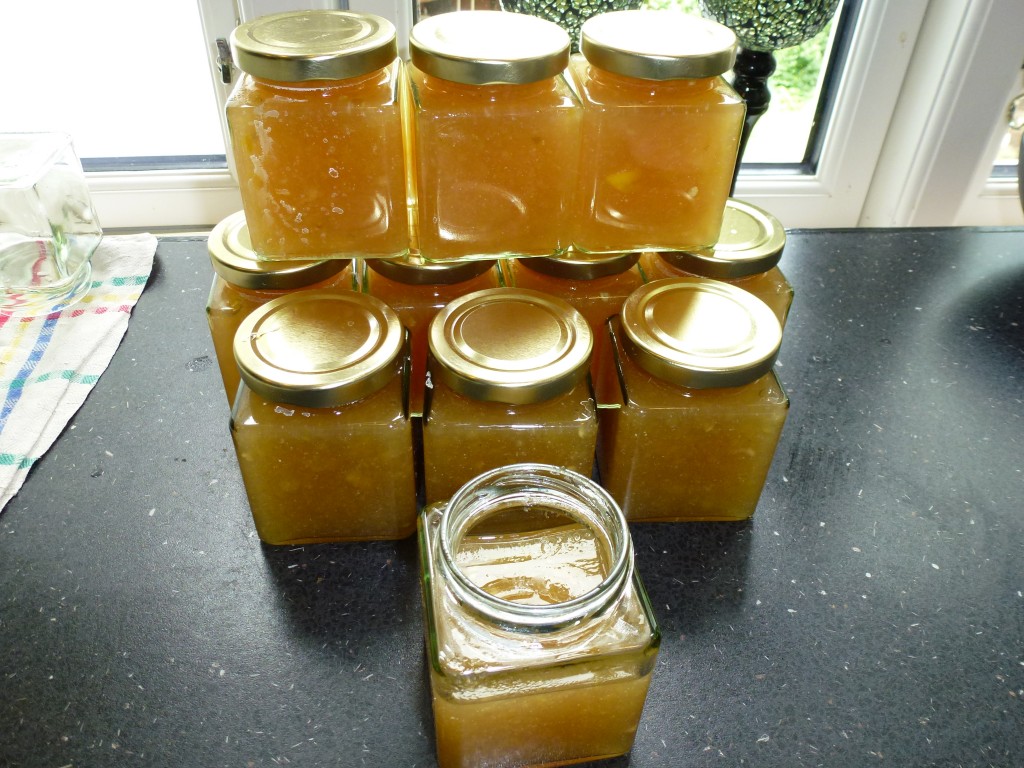 Ingredients:
ca 1 kg citroner, økologiske
5 dl vand
1,5 – 2 kg raw canesugar (erstat evt. lidt af det med glukose)
1 håndfuld friske chili
2 tsp salt
maybe some. little citric acid
Sodium benzoate
maybe some. gelling (eg. red Melatin)
How to:
Place a small plate or bowl in the refrigerator. The use later when you test the thickness of the jam (and it should go fast when it happens).
Lemons are loaded in a pot, like where they can be placed in one layer on the bottom. Pour water.
Let them simmer for an hour under the tight-fitting lid.
Fish lemons and let them cool light of – until you can handle them without burning out. Lemon water is in the pot.
The chili chopped fine in the food processor and place in lemon water.
I pills just stalk of chillies in, but you can remove the cores and frøvægge if you think.
Remove the flower from the lemons and cut them into some pieces – jeg deler dem i 4 – 5 tykke skiver. Deseed underway. Blend Now lemon in food processor (or blender). I think that a coarse mash with little pieces are delicious – but chop them as you like it in your lemon marmalade.
Pour the mixture back into the pan with lemon water. Add salt and 1 ½ kg sugar. Lad det hele småsimre 10 minutters tid.
Taste and add more sugar if you like – boil up again.
Maybe you found some ripe and almost sweet lemons and now appears to jam could use a bit more acid – then carefully add a little citric acid.
Get your cold plate in the refrigerator and pour quickly a spoonful of the mass on the plate. A consistency OK when the jam has cooled or should gelling agent in?
Add the gelling agent. Read the package first – most should just mix in a little sugar before they sprinkled in. Lad geleringsmidlet koge ½ eller 1 minut (read the package) and remove the saucepan from the heat.
If you need more, the pan back on the heat and boil with a little more. Repeat the test.
When you are satisfied with the sample plate into the pan from the heat and citrus peel added, then Atamon as directed on the bottle.
Remove from the heat and add atamon according to directions on the bottle.
Pour on clean, scalded and atamonskyllede glass which immediately closed. Turn them just once on the head and back immediately to kill a bug. stubborn bacterial.
Eaten at just what you want. We use the example. clean the bread, at various cheeses, touched into something sour cream and used as a dressing for salad, greens, fisk, dip for bread and vegetables. Delicious in moderate amount of fish before the grill / oven / pan (can be stirred into a little oil before) – like along with some salt rewarding. Also good for pancakes and glaze for export. muffins.
If you use small lemons, there comes relatively very peel and the white shell with the mixture. thus, will have a taste along the bitter lemon. Store, juicy lemons gives a rounder – more 'ordinary' citronsmag. The small demands like a little more sugar than the large.
Bl.a. lavet med 1 Habanero Golden og 4 Aji Pineapple til 1 portion. Og en stor håndfuld Habanero Hot Lemon en anden gang.
Bitter Lemon marmalade:
Hvis du koger marmeladen og evt. lidt ekstra glukose (du risikerer at den krystalliserer hvis du kun bruger sukker nu) noget længere til det bliver mørkere (caramelized slightly), får man noget som er meget lig den engelske bitter orange marmelade. It is really delicious, we seem – and prepares a hot chili. Jeg smider ca 100 gr ekstra glukose i og koger det til farven er rigtig – one can also perceive that the consistency. Tastes like with a little citric acid is also.
Bl.a. lavet med 1 Habanero Golden og 1 7pot Yellow