Pebermyntechokoladerne are some of the big favorites with us. We also do other cool stuff, but it is as if there is never quite enough of them here.
The filling here made of white chocolate and cream are a league above the usual sukkerfondant peppermint filling, which can run into the purchased products. Try it.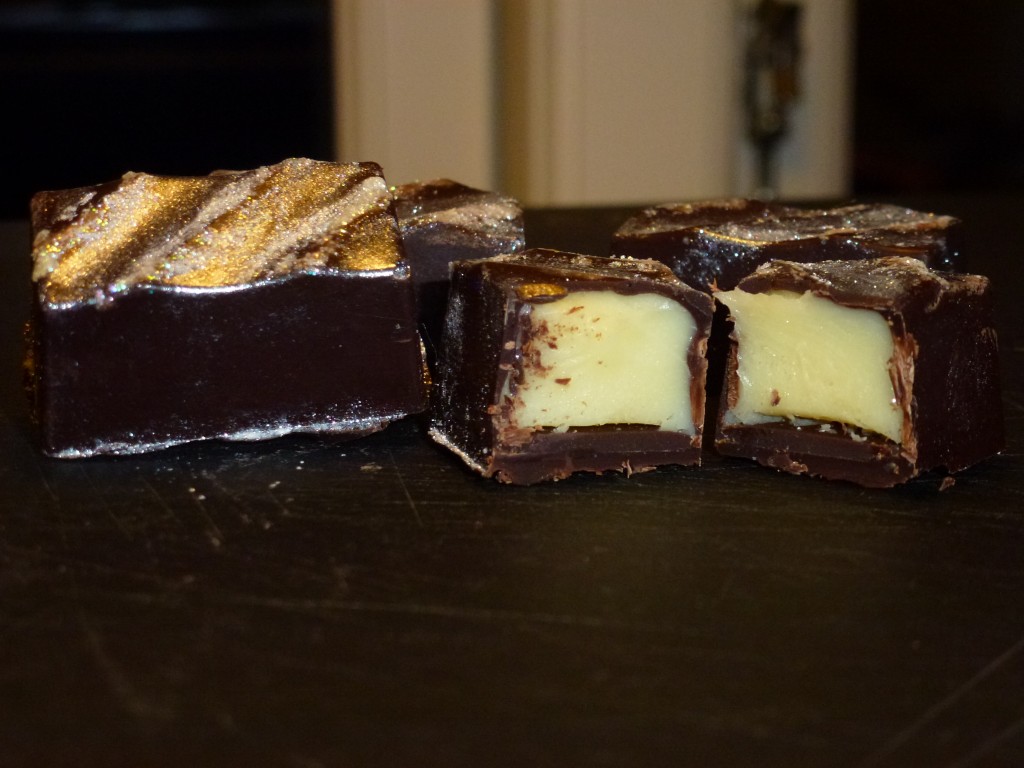 Ingredients:
Dark chocolate shells
400 gr hvid chokolade
2½ dl piskefløde 38% – like eco (they taste best)
75 dråber pebermynteolie
How to:
Make shells ready – see little about chocolate.
Chop the white chocolate finely and mix with the cream in a small saucepan. Put it over the weakest flame – det er 1 på mit komfur – and stir in masssen while it quietly warms up until the chocolate has melted into the cream.
Feel free to use a small spatula to stir with – it is easier to keep the chocolate off the bottom with such than with a spoon.
Be aware – Chocolate burns easily and white chocolate is of chocolates as easily do it. It withstands minimum heat.
It is now no problem with this recipe if you are a little awake.
Remove the saucepan from the heat when the filling is finished and set to cool on the kitchen table. Of the tube in and to.
When filling the kitchen temperature, Add peppermint oil and stir it into the mass. Now pour the filling into the shells. This is done either with a spoon or even easier with a freezer bag that has been cut a small hole in. You can also get a small funnel made for the purpose. Fill almost to the edge – to just be room for molding chocolate bottom.
Put the mint chocolates in the fridge ½ hour.
Melt the chocolate to the bottom (it's not always that I bother to tempered chocolate to the bottoms – but one should well).
Take mynterne from the refrigerator and casting bottoms.
Ask chocolates at room temperature min. a few hours (or cheating and place them in a cool ½ hours) – then easily be turned off. If you use chocolate molds – tap edge look mod Køkkenbord – then pops the out. Do it on a clean tea towel so they do not settle.
Tips:
If you want thinner peppermint filling, Using just a little more cream.
I have successfully had them standing a few weeks under refrigeration and has also successfully had them frozen and thawed again. They still tasted as they should.