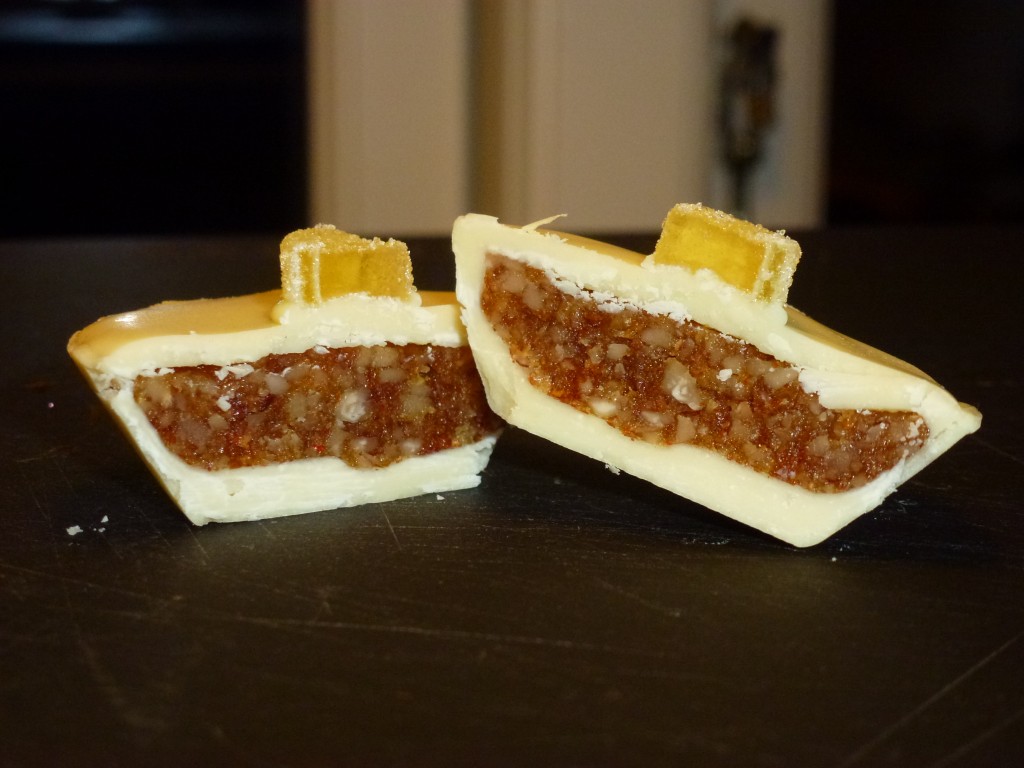 Ingredients:
White chocolate shells
500 gr almonds
6 – 8 bittermandler eller abrikoskerner
4 spsk honning eller mere
6 – 8 spsk limoncello – jeg bruger en hjemmelavet på 40%
revet skal af 2 – 4 usprøjtede citroner
3 tsk chilipulver
How to:
Prepare shells – see little about chocolate.
The almonds are chopped - with skin - in a food processor, indtil de har en konsistens som meget groft mel – prøv dig frem hvilken konsistens du bedst kan lide. I think that this marzipan must be more coarse than the regular store bought marzipan.
Add honey, chili, limoncello og citronskal – og kør til massen er let sammenhængende – endelig ikke for længe. The mixture should be slightly sticky, måske skal der lidt mere vædske i – kommer an på hvor fint du malede mandlerne og hvor store skefulde honning der kom i.
Pressure mass in chocolate shells. Have a little cabbage with cold water standing in for dipping the finger in, as you push the marzipan well with.
Close shells with chocolate and turn them off when they are completely stiffened. Garnish CE. – preferably with candied lemon or the like.
Note:
The attentive reader will notice, that portion here is twice as large, like the ones I am doing to many of the other marzipan recipes. Det skyldes at den har det med at forsvinde ret hurtigt ved servering ;o)