English here: Honey cakes with chili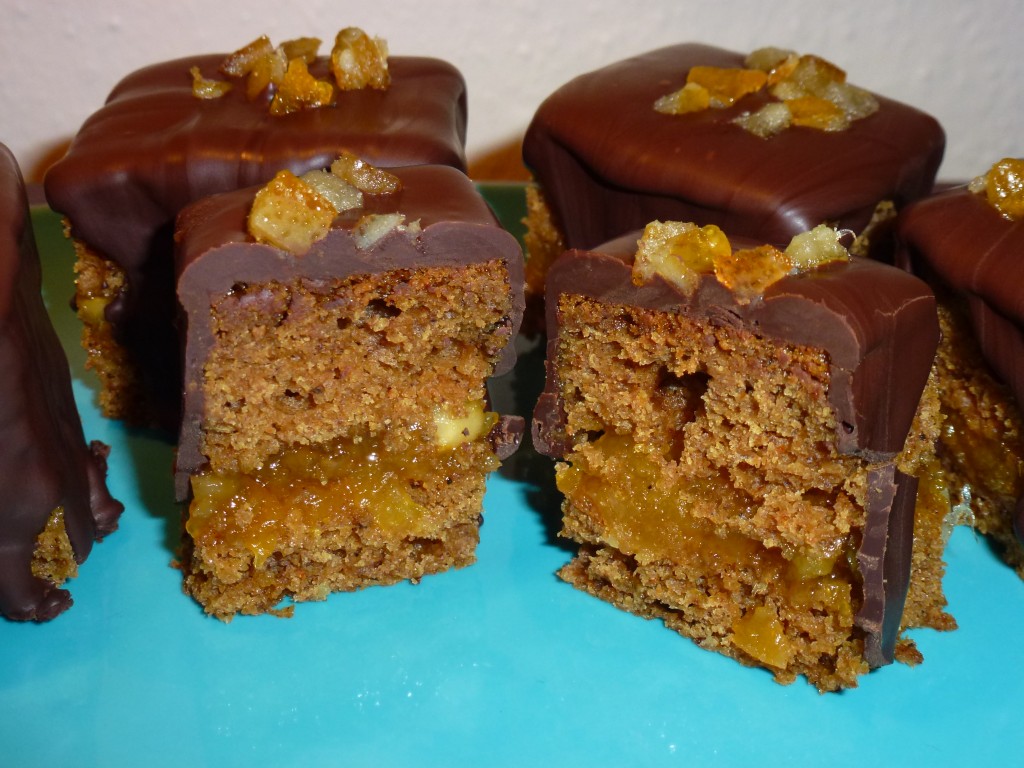 Ingredients:
450 gr honey
225 gr Muscovado sugar
250 gr butter
8 eggs
500 gr flour
3 teaspoon baking powder
6 – 8 teaspoons chili powder, mild-medium or chopped fresh chili to taste
4 teaspoon ground ginger
2 teaspoons ground cinnamon
2 teaspoon ground allspice
1 teaspoon ground cloves
1 – 3 glasses abricot jam – preferably homemade (or orange jam) – I use about. 8 dl
Nice, dark chocolate
How to:
Melt the honey on a low heat and let it cool down to room temperature.
Whisk butter and muscovado well and add honey.
Add the eggs one at a time and whisk between each.
Sift the dry ingredients together and fold them into the dough.
Put the dough into two greased springforms – or a square form lined with baking paper. I use a square shape form of approximately 30 x 37 cm.
Bake in preheated oven for. one hour at 150 degrees celsius.
Allow it to cool slightly in the form, before you take it out.
When it is completely cooled of, split it in two layers and a thick layer of abricot jam is spread out between the layers. The cake can easily be covered and wait for the day after, before you split it and add the jam. I think it is easiest to split the cake with a bread knife.
When the jam has been added, let the cake rest for half an hour – so the jam 'sets' themselves. In the meantime, you can. temper the chocolate if you like. You don't need to temper the chocolate, but if you know how, then it makes a delicious surface and gives a nice 'crunch' when you bite of the cake. see also. little about chocolate.
The cake is cut into squares that are being coated with (tempered) chocolate. The cake can also be coated as a whole. If you use a chocolate rack to coat the cake on, then move the cakes again relatively quickly, so that it does not stick to the grid when the chocolate sets. If you areto the 'art' of using chocolate rack, then only coat 8 – 10 pieces at a time.
You can decorate them using for instance. candied orange peel before the chocolate hardens.
If you cut the cake into squares, so first cut the edge of the cake nice and clean. The pieces that you cut of, you can just make a handful of delicious chocolate chili truffle balls with: crumble cake pieces well and mix them with a little jam and cocoa powder – knead well together and form truffles which are rolled in a little desiccated coconut. They may also be coated with melted chocolate before they are rolled in the coconut.
Note:
If you would like to also have white butter cream in your honey cakes – then whisk 250g butter and 150g icing sugar and vanilla grains from one pod (or the equivalent of other vanilla product). Spread on one part of the cake and jam on the other and put them together.
Remember that any honey cake leftovers are super for making truffles of – mix them with a little good until the consistency of thick cake batter, see proposals in the picture below. Roll them into balls ine – tril if necessary. in cocoa powder and store them in the fridge. They can also be rolled in – is cooled for a few hours and is coated with chocolate. Yum.