The delicious porchetta carving which is very suitable for Rotisserie on the grill, can also be created in the furnace cleverly. In my version here is lots of fillings – as you can obviously vary according to taste and what you have just to fingers of the ex. herbs. I have chosen two kinds of chili – strong to give flavor and a little strength and a mild to give a little more low capsicum taste and also contribute its own fine taste without the strength gets too wild. Leg finally with both chiller and the second fill – der er mange muligheder.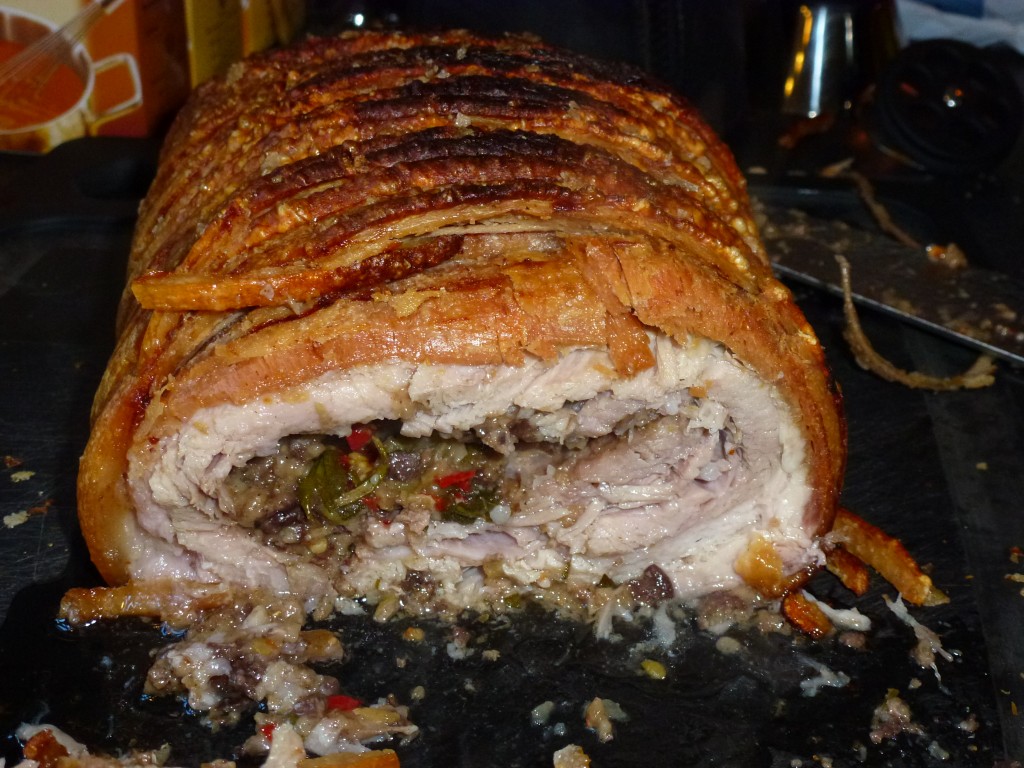 Ingredients:
2 – 3 kg Porchetta – any eco (her fra http://johannesminde.dk/ som leverer i hele landet)
Mild chili – a handful or two
Strong chili – a few or more to taste
Salt
Ca 400 gr Haggis eller svinefars
2-3 æbler
Herbs – i.e.. a bundle of sage and rosemary a bundle
Oil
maybe some. port, gastrique and thickening the sauce
How to:
Wide Porchetta out with the skin side down and sprinkle it with salt. Crumble haggis'en out of the piece.
Wash the apples and peel them if you like (I peels them not). Deseed them and chop them into cubes. Spread them out on Porchetta. Pressure haggis and apples well down on the meat.
Wash chillies and remove the stem. Deseed them if you like. Chop them into small pieces and arrange them on top of the other fillings.
Rinse and dry the herbs and remove the stems (Save the stems – you need them in a minute). Hak dem halvgroft og læg dem på det andet fyld – pressure amends.
Make sure that the filling does not go right to the edge of the end to be extremely when you roll the meat..
Roll the meat well around the filling and Untie it. If you can line it with a long piece and good lacing technique, it is fine – otherwise tie just several pieces of string around the meat separately and turn a few knots and cuts off the long ends of. It might be nice to be two to constrict, so you can tighten the string well.
Turn the roast with the nice side up and grease it well with olive oil and massage coarse salt into and between the rind – just like you would for a traditional roast pork.
Come stems from herbs and filling as any. dropped out during snørinen the bottom of an ovenproof dish / a small baking pan and set rack over. Place the roast on the grill and fill about half a liter of water at. Jeg hælder også ca 1 dl portvin i vandet.
Sæt stegen i kold ovn som nu tændes på 180 grader og stegen passer sig selv i 4 timer. Look for it regularly and watch out that it does not get too brown – place a piece of wax paper loosely over it if it starts to take plenty of color,
Når de 4 timer er gået checker du lige om sværen er bleven sprød. If not, kan du give den et par minutter ved 225-250 grader eller grill indtil sværen er sprød og lækker.
When the roast is done you let it rest while you make the sauce (and rolls are in the oven, if you make them). Pour the liquid from the bottom of the pan through a sieve into a small saucepan and foam the 'worst' fat. Boil the sauce and taste it like to conclude with a few teaspoons gastrique, ½ cup port wine and even the slightly.
Cut Porchetta in slices and serve.
Tips:
Porchetta is very suitable to serve as they do in Italy – in a bun, often with a little bit of the juices (here as sauce) of.
I'll make some muffins on organic spelled and wheat flour, som lige er klar til at få 25 minutter i ovnen imens porchettaen hviler efter stegning. They split and served with a thick slice of porchetta and a spoonful or two of sauce between.
You can easily use regular ground beef instead of haggis – or would not fill the father in and just use chili, salt and herbs. If you choose to use the father's, you can knead a little spice in it if you like.