Blommechutneyen here tastes although the sun and summer. The orange gives the yolks a beautiful contrast and both fit nicely with the chili.
If the plums are ripe chutney can be a bit thin. Of course you can thicken it with the gelling agent if it is – but I think now you do not mind the texture is not the same from time to time.
The portion here is quite large – divide themselves – or low at, det plejer at blive spist hurtigt ;o)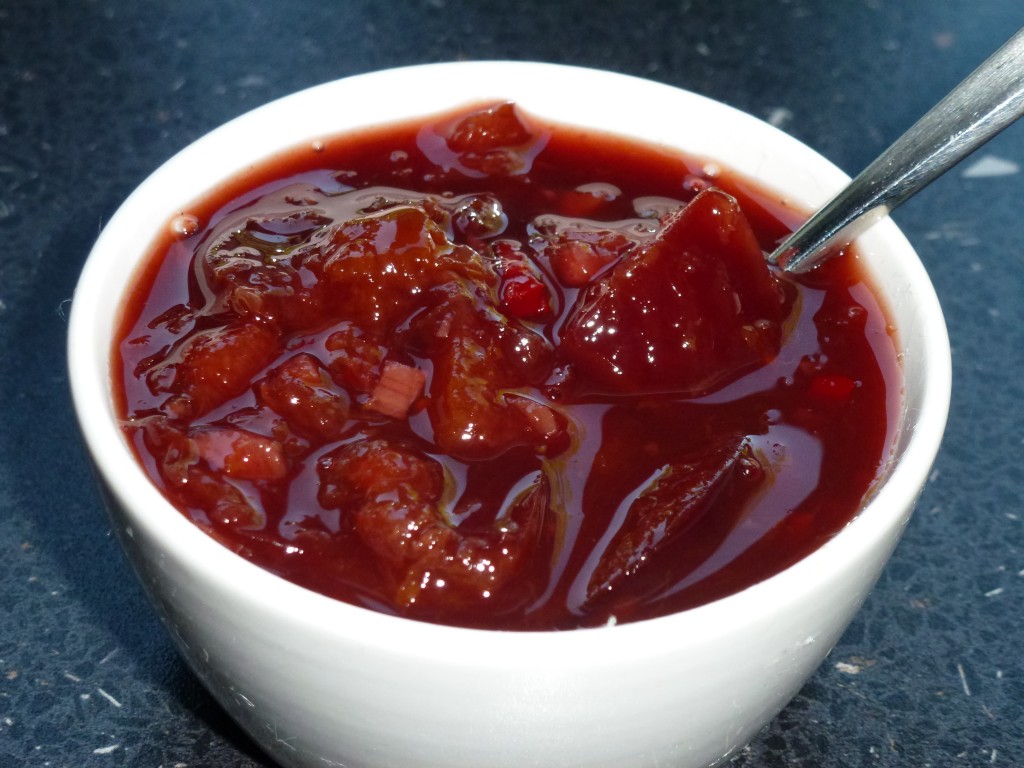 Ingredients:
3 kg blommer, would only just barely mature, still sour
6 økologiske appelsiner
1200 gr honning
3 dl æblecidereddike
200 gr ingefær
chili to taste
2 spsk salt – I use Maldon
maybe some. cane or more honey to adjust the sweetness with
Sodium benzoate
How to:
Rinse the plums, halvér og udsten dem og skær dem i mindre stykker efter smag.
Wash orange founders and tear skull pin – gem den til senere. Pres saften af appelsinerne.
Peel the ginger and chop it finely with chili – it is easily done in a food processor if you just cut it into smaller pieces first.
All ingredient holders, close to the orange and Atamon, bringes i kog i en gryde, hvor det simrer til blommerne er møre og chutneyen har en passende konsistens. During tasted any. til med rørsukker/mere honning hvis du synes at det skal være sødere (depends on how sour plums are and your taste).
Foam impurities of the way and pipes regularly in the mass, especially towards the end.
When chutney is almost ready, add the grated orange peel and all given a last rehash.
Remove the pot from the heat and Atamon added as directed on the bottle.
Pour immediately clean, scalded and atamonskyllede glass, which are immediately closed. They turned quickly once on the head and back when the lid is come.
Tips:
Feel free to use other citrus fruits – fully or partially. A good red balsamic vinegar can replace æblecidereeddiken.
Eaten with meat and cheese (especially blue), on Indian food and curries – and whatever else you thought. Fænomenal on leverpostej.