Not my recipe – but one of those that 'everybody' knows, just like Atomic Buffalo Turds. A delicious way to vary the ways you use your Jalapeños. Other kinds of chili can of course also be used. Here is one of the models I make.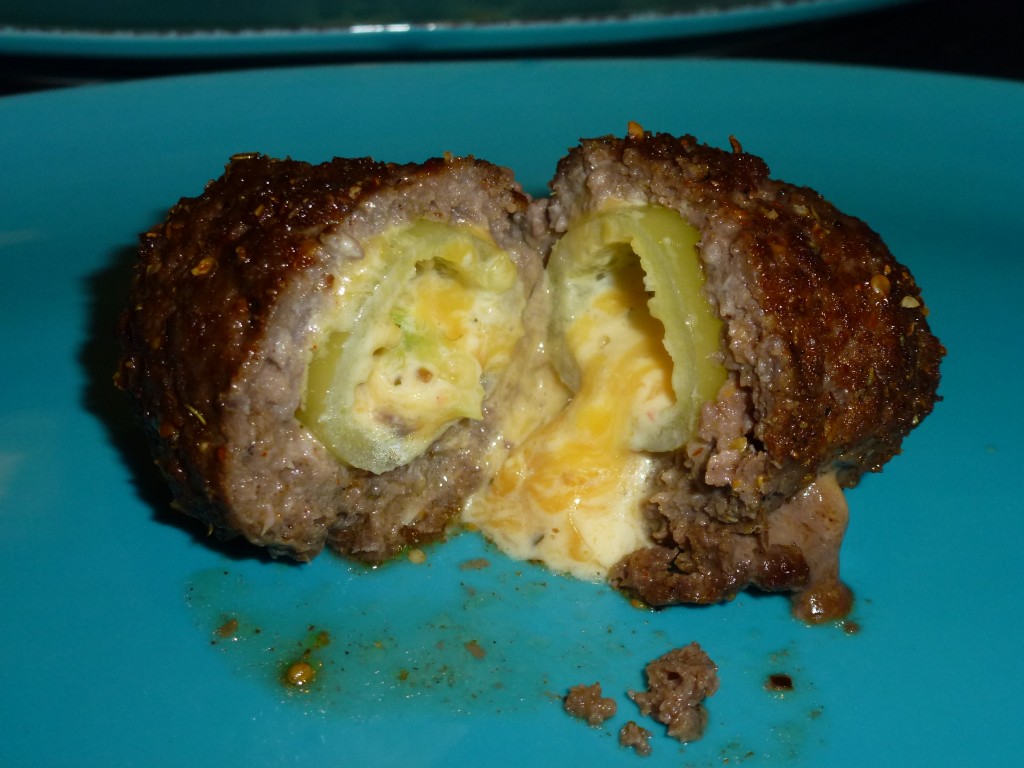 Ingredients:
Jalapeños or other kinds of chili
Cheddar cheese
Cream cheese of a kind
Garlic
Minced meat – it could be minced beef or . raw sausage mince – ordinary. pork meat also works really well
Barbecue spice (will be translated upon request) – or other spice mix
Pinch of salt
maybe some. a bit eggs
How to:
Vask chilierne, cut the top of them and deseed them. Use a Jalapeño-DECORER or peak, sharp knife.
Grate the cheddar cheese coarsely and mix with cream cheese. I think that equal amounts of each works well. Also add flavor gives as example. crushed garlic.
Fill cheese chillies – it is easiest with fingers or a table knife.
Mix the batter with spices and a little salt. Do not be stingy with seasoning. If the batter is too loose and gritty, can add a little beaten egg (1 -2 tsk) – I think as a rule, it is necessary.
Apply a little oil in a circle on your cutting board or a smooth, clean kitchen. This is done so that the stuffing does not need to hang in.
Form a small ball father's hand – roll it well (but quickly, so it does not get heated up too much) and squeeze it slightly between both palms. If you start doing this, hangs stuffing better together.
Add fars'pandekagen' the oil-lubricated cutting board / board and gently press the stuffing out so it has the same height over the place.
Add a chili on the stuffing and wrap the stuffing well together chili, so that is covered with an even layer all over. Make sure there are no cracks and holes into the chili.
Sprinkle all 'eggs' with a little spice all the way around and put them cool, if they do not need to be prepared with the same.
Grilles on udegrillen – preferably with smoke – or in the oven. In the oven can high heat, however, also make it. Serve with whatever you fancy.
Tips:
It is one of the recipes, where you do not have to hang on too much in the exact ingredients – the idea is to use. Try items. switching barbecuekrydderiet out with your favorite spice blend or just (smoked (not translated yet)) paprika maybe. Garlic is not needed, If you do not like it. There may sagten mix other goodies in the filling. Finely chopped, fresh cilantro in the filling or stuffing I am very fond of – and there is plenty of opportunity to experiment here also. En godt krydret rå pølsefars er også rigtig lækker i stedet for oksekødet.
The chili can of course also be varied and may sagten divided into several pieces, either in small pieces' tube' or longitudinally.
Also, try to wrap bacon on them – it can help keep the stuffing bit of space and taste the super.
Make a little more than you need, if it is important that they are neat. I always think that a few 'break' during cooking so little cheese runs out. They taste the still good, but if the presentation is important, so low abundant.
Have you filled to spare, then it may well be used for other things. Just smeared on a piece of bread which then grilled, is really delicious. It can also be filled in some chilli or pepper as grilled (without father) – og måske drysses med lidt grønt ved servering.
Below are the remains of the filling smeared on some great pieces rosmarinflute, som efterfølgende er grillet i ovnen og serveret med skiver af bøftomat og røget chilisalt.
Armadillo Eggs of ground beef from John Memorial. A big hit. They strung him along and tasted super delicious. Goat cheese in chillies and various spices in the meat (barbecue + 2 slags chili):